Patient Info
We Believe Every Patient Should Have Access to Quality Dental Care So You Can Live Your Best Life
We accept many insurance plans. For our patients who do not have dental insurance, VIDA Dental Studio offers an in-office dental membership plan. Members of this plan receive important preventive care and a significant discount on our other services. We also offer third-party financing through CareCredit. Don't be afraid to explore your options! We're happy to answer any questions you might have.
Comprehensive Dentistry That Fits Your Budget
We are happy to help you find ways to get you the treatment you deserve. Schedule your appointment today!
"My husband and I are so fortunate to be the patients of Dr. Giron and his wonderful staff. His loyalty program helps us as seniors without insurance. Highly recommend!"
"Dr. Giron and his entire team are excellent at what they do. From making the appointment, to discussing my insurance options, to the procedure itself this week, it was a first-class experience. I am making the transition to Dr. Giron as my full-time practitioner going forward and couldn't be happier."
"The doctor is personable, gentle, and kind. I was very comfortable here…I recommend you to go in and get acquainted while they are still taking new patients."
Comfort Menu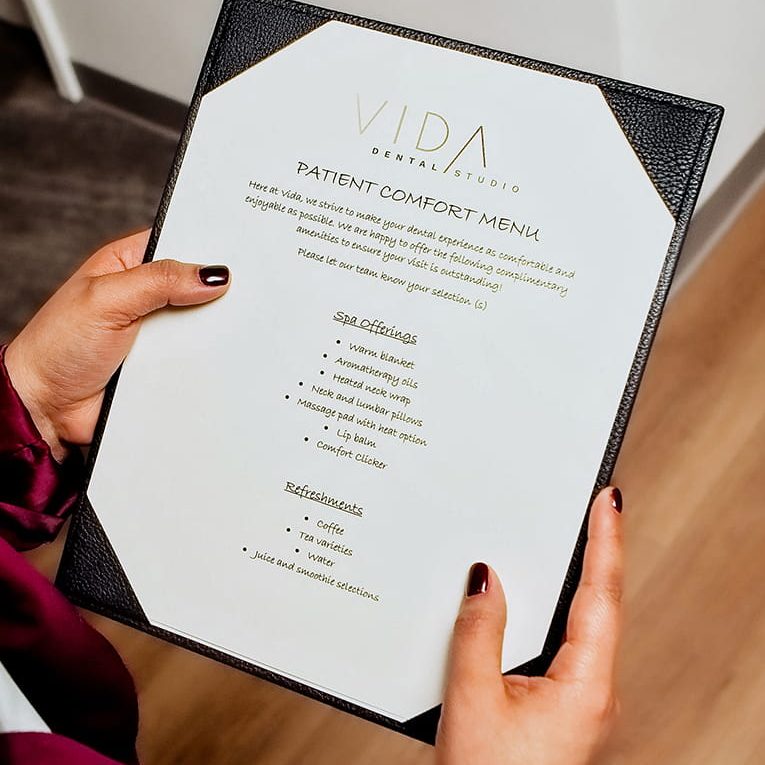 Here at Vida Dental Studio, we strive to make your dental experience as comfortable and enjoyable as possible.
We are happy to offer the following complimentary amenities to ensure your visit is outstanding!
Spa Offerings:
Warm Blanket
Aromatherapy
Heated Neck Wrap
Neck and Lumbar Pillows
Massage Pad with Heat Option
Lip Balm
Comfort Clicker